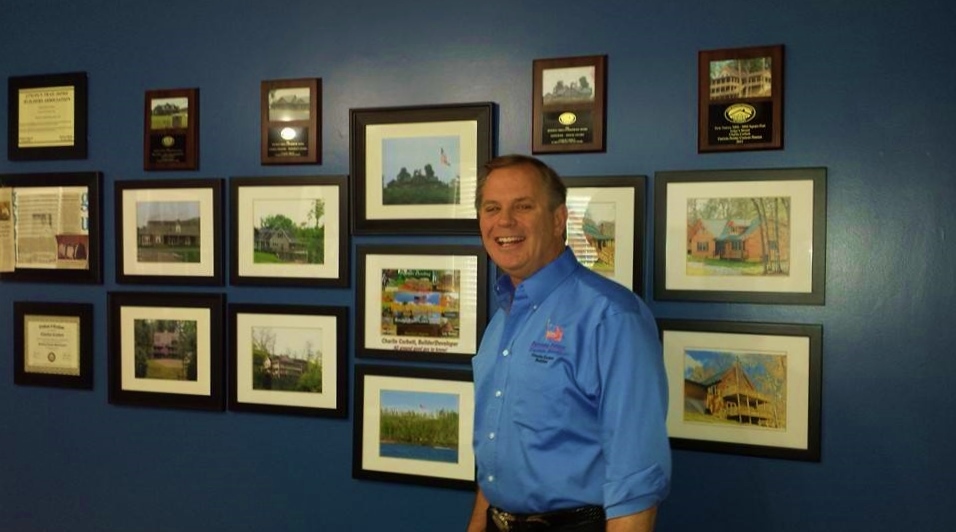 Charlie's Story
Most 'ABOUT US' pages list a few bullets that give you statistics and credentials.  Almost nobody reads them, and if they did, would not learn much about the individual standing behind the company.
Charlie Corbett is our President (for us that means CEO or "Chief of Everything Officer.") He is the resident developer, builder and entrepreneur at Patriots Pointe Custom Homes.  Most folks just call him an 'all around good guy to know!'
Being around a construction site is nothing new to Charlie. His first jobs in construction date back to the late 1970's when he worked building homes and improving land in and around Elizabethtown and Radcliff, Kentucky. Two 70-year old master carpenters taught him much in the early years about foundations, framing and finishing homes. Along the way he has worked in just about all of the construction trades.  (And spent 8 years in the U. S. Navy serving as a first-class machinist mate on a nuclear submarine.)
Working through the hard years when home mortgage interest rates hit 18% taught Charlie to be creative and thrifty in planning & completing building projects. These lessons in construction efficiency are still benefiting our clients today!
Since coming back to Rough River and building full time, Charlie has earned several certifications, become a state-recognized expert on building codes and has earned almost a dozen awards from the KY Home Builder's Association for design and construction of his homes.
History on Rough River Lake
For over 25 years, Charlie and his family spent summers and weekends at their family camp on Rough River Lake. (As an avid competitive skier, there isn't much about this lake that he doesn't know…. well!) As a result, Rough River became an important part of his life, one that he never fully left behind.   Now, Charlie and his family live on Rough River full time. Building high quality homes for new residents and those seeking the same weekend respite that he has enjoyed for so many years.
We are not the most expensive builder on the lake, and we are not the cheapest, but we will not build a cheap home. Our spec homes are constructed with the same care and concern for comfort, long term integrity and value as our custom homes. Our custom homes are built with as much cost control placed in the owners hands as possible.  We make every effort to make our estimates exceptionally realistic with no hidden "costs."
Using local craftsmen and suppliers, Charlie has built some stunning homes that will take your breath away… along with some of the coziest cottages to be found anywhere on the lake. Our satisfied customers speak volumes about our commitment to excellence and quality in every project we undertake.   We are happy to provide referrals upon request so that you can speak directly to these folks.
Come by and see Charlie, or give him a call at 270-257-0605.  He'll show you why his approach to home construction is creative, thorough, cost effective!